Plates of the United Nations missions from my collection
Jump to the plates you want to see by clicking the region or scroll
EUROPE AFRICA MIDDLE EAST ASIA AMERICA

UNPF = United Nations Protection Force in Ex-Yugoslavia ( March 1992 - December 1995)
The second plate with the T was used on a trailer
Later issue in former Yugoslavia for different missions as UNCRO, UNMOP and UNTAES. The first plate is an overpainted version of the first issues (PF was overpainted in white). Somewhat later plates with UN were in use. The example you can see here was used on a trailer (T=Trailer).
Three more special issues from this time in Ex-Yugoslavia:
very low number; missions command (?) DFC=Deputy Force Commander
SRSG=Special Representative of the Secretary General
WEU = Western European Union
This is a plate from a Police Observer Mission of the WEU in Mostar in Bosnia-Herzegovina (1994)
The Western European Union is is a consultation forum of nine EU countries (Belgium, Germany, France, Great Britain, Italy, Luxembourg, The Netherlands, Spain and Portugal). The nine stars on the plate symbolize these nine countries. Since 1995 Greece is also a member of WEU.
UNHCR = United Nations High Commisioner for Refugees
This plate was also used in Ex-Yugoslavia. In December 1995 the UN mission were superseded by NATO mission IFOR = "Implementation Forces" which was a multi-national mission from 16 NATO countries and 17 non-NATO countries.
After IFOR in December 1996 the mission was renamed to SFOR = Stabilization Forces. The seal you can see is embossed.
Another SFOR plate. This time without seal.
From December 2005 the European Union took over the mission now called EUFOR = European Union Forces:
Beside EUFOR there are still vehicles of NATO in Bosnia. They carry NATO plates:
another NATO mission is acting in Kosovo named KFOR = Kosovo Forces
Beside the NATO also the United Nations have their own Kosovo mission named UNMIK = UN Interim Administration Mission in Kosovo
First they used UNMIK on their plates and later only UN.
In the Kosovo there is also the European Union with its mission EULEX for the rule of law in Kosovo. Here you can see a pair of these rare plates:
The members of the EU missions in Kosovo carry the following plates on their private vehicles:
Beside these organisations also the OSCE is working in Kosovo
OSCE MK = Mission in Kosovo
This plate comes from UNOMIG = United Nations Observer Mission in Georgia (since August 1993)
UNFICYP = United Nations Peace-Keeping Force in Cyprus.
The first plate was used in the early years of the mission. The plate with UNF is currently in use. The meaning of the plate UNP is possibly an early UN plate for private use of the members of a mission, like it is still in use in the Middle East.


MINURSO = United Missions for the Referendum in Western Sahara (since September 1991)
The plate is from Morocco CD series
MINURSO = United Missions for the Referendum in Western Sahara (since September 1991)
This Type is in use in the Polisario controlled areas.
UNAVEM = United Nations Angola Verification Mission (Missions I bis / to III January 1989 - June 1997)
since July 1997 MONUA=UN Observer Mission in Angola
UNOMIL = United Nations Observer Mission in Liberia (September 1993 - September 1997)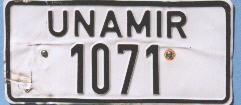 UNAMIR = United Nations Assistance Mission in Rwanda (October 1993 - March 1996)
ONUMOZ = United Nations Operations in Mozambique (December 1992 - December 1994)
UNOSOM = United Nations Operation in Somalia (Mission I April 1992 - March 1993, Mission II Mai / May 1993 - March 1995)
UNAMSIL = United Nations Assistance Mission in Sierra Leone (October 1999 - December 2005)
UNTAG = United Nations Transition Assistance Group in Namibia (April 1989 - March 1990)
The first UNTAG plate is perheps from the missions commander.
UNMEE = United Nations Mission in Ethiopia and Eritrea (since Juli 2000)

UNDOF = United Nations Disengagement Observer Forces (Golan Heights) (since June 1974)
UNEF = United Nations Emergency Force (Sinai) (UNEF I November 1956 - June 1967 and UNEF II October 1967 - July 1979)
MFO = Multinational Force and Observers (seit / since 1982, keine UNO Mission / not a UN mission)
UNIFIL = United Nations Interim Forces in Lebanon (since March 1978)
UNTSO = United Nations Truce Supervision Organization (since June 1948)
This is a rare plate from the autonomous palestinian territory on the Westbank. The abreviation means "Temporary International Presence in Hebron" as far as I know. Obviously it is the plate of an international mission to observe the peace process.
If there is somebody who has certain information, please let me know.
UNIIMOG = United Nations Iran - Iraq Military Observer Group (August 1988 - February 1991)

UNSCOM = United Nations Special Commission (Iraq) (since April 1991)
UNIKOM = United Nations Iraq - Kuwait Observation Mission (since April 1991)

UNAMET = United Nations Assistance Mission for East Timor (since May 1999)

UNTAET = United Nations Transitional Adminstration in East Timor (October 1999 - May 2002)
UNMOT = United Nations Mission of Observers in Tadjikistan (since December 1994)


UNAMIC = United Nations Advanced Mission in Cambodia (October 1991 - March 1992)
UNTAC = United Nations Transitional Authority in Cambodia (March 1992 -
September 1993)
The little one is from a motorcycle

ONUSAL = United Nations Observer Mission in El Salvador (July 1991 - April 1995)
MINUGUA = United Nations Verification Mission in Guatemala (September 1994, February 1997 - May 1997)
MINUHA = United Nations Mission in Haiti (September 1993 - June 1996)
MANUH = Mission d'Appui des Nationes Unies en Haiti / UN Support Mission in Haiti (June 1996 - July 1997)

---
Anregungen / Tips / Kommentare / Angebote? Dann schickt mir ein e-mail
Suggestions / Tips / Comments / plate offers? Than e-mail me: